See? She's Too Thin Already!!!!!!
Remember Tom talking about how she's going to lose all that weight? And then the rumors of her playing Posh in some craptastic made for tv movie?
Well, she looks skinnier than before she got "knocked up" out of wedlock.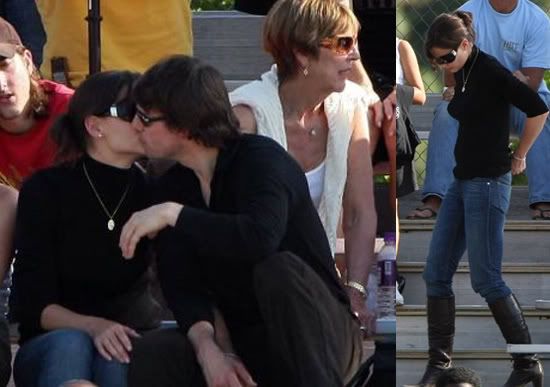 Katie and Tom were doing their favorite thing this weekend. They
watched Conner's football game after returning from Vegas. The couple
couldn't have looked happier and Katie has every reason to be smiling. After
showing off baby Suri she is now showing off her skinny body. Apparently
she worked hard running and working out with a trainer to get back to
her size 6 shape. Looks like all of that hard work paid off.


Seriously I don't think I've ever seen parents without their children
more than they are! Has that child left the house more than twice
*cough*anorexic*cough*
Nice diet soda, fatty.
(pee ess: looks like Tom's dipping into the wig factory, too)